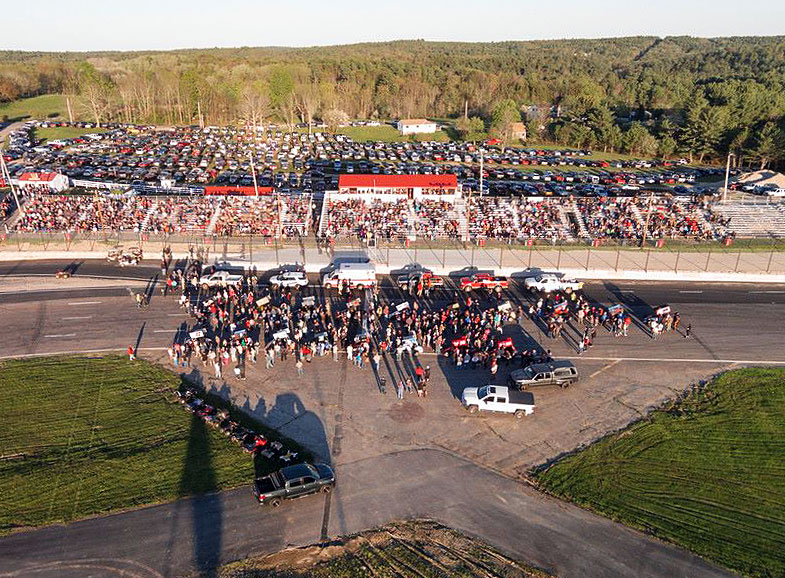 In 2019, Maine stock-racing fans will celebrate the 50th anniversary of Wiscasset Speedway. Rich in history, this 3/8-mile, high-banked oval stock car track officially opened in 1969 and continually boasts the fastest speeds of any track in the state.
Current owners Richard and Vanessa Jordan of Kingfield, Maine, have a deep respect for the legendary racers, loyal fans, and milestones that passed through the Speedway all these years — from the mid-90s NASCAR Series to the 2003 Big Dawg 400, a national Prostock $100,000 event, the biggest single race payoff in Maine history.
Vanessa explained why she and Richard were driven to buy the Speedway. They weren't planning to own a speedway. They already own Jordan Lumber & Excavation, along with other Jordan family members, in Kingfield. She said, "The Speedway property was being sold at auction in 2012. We went just because we were curious to see who'd end up with it, and what they'd do. The auction wasn't going well and one of the auctioneers said, 'Rich, just make us an offer.' So we did, and there she stands."
Wiscasset Speedway is one of Maine's remaining six official tracks. Vanessa said, "Racing is tough, but we're growing on the fan side and car-count side." Their 25-week season of classic Saturday races runs April to October.
For details on race times and other fun activities, visit their website at: