When Lois Skillings embarked on a nursing career 40 years ago at Mid Coast–Parkview Health in Brunswick, she couldn't have imagined the growth and changes that have happened in the region, in healthcare, in Maine's hospital landscape, and in her own career. And of course, she couldn't have anticipated the current COVID-19 climate — a major challenge, to say the least.
Lois grew up in Pownal, Maine and went to Freeport High School before nursing school and graduate school. At Mid Coast-Parkview, she rose through the ranks and became President and CEO 9 years ago. She said, "Throughout my career I have been tapped for leadership positions, in fact I have only applied for 2 jobs in my career. The rest of the roles I have stepped into when asked to accept a challenge, which has been very exciting! My passion for leadership is to help make things better….always finding improvements in the care we provide our patients, the health of the community and supporting the staff who work so hard caring for others and ensuring the strength of the organization so we can accomplish all of this."

"All of this" includes a pandemic that has rocked the world in 2020. Under Lois' leadership, the hospital staff have done remarkable work preparing for a potential increase in the numbers of critically ill patients, and every day are caring for patients impacted by the pandemic."

Lois noted, "The outpouring of support from the community to the front-line staff has been overwhelming and heartwarming! Everything from hand-made signs lining our driveway to food and supplies… it has been wonderful."
She mentioned that she's also grateful for the people of the State of Maine for doing their part to slow the rate of transmission, giving healthcare a chance to re-tool operations for safe patient care. Fortunately, Maine hasn't been overwhelmed with the numbers of patients as they've seen in other parts of the country.
Lois said, "This pandemic is real, and the veracity of the illness is like nothing I have seen in my career. Wearing face coverings/masks in public, staying at least 6 feet apart, avoiding gatherings of people, and hand-washing are things we can all do to protect the most vulnerable members of our community at this time."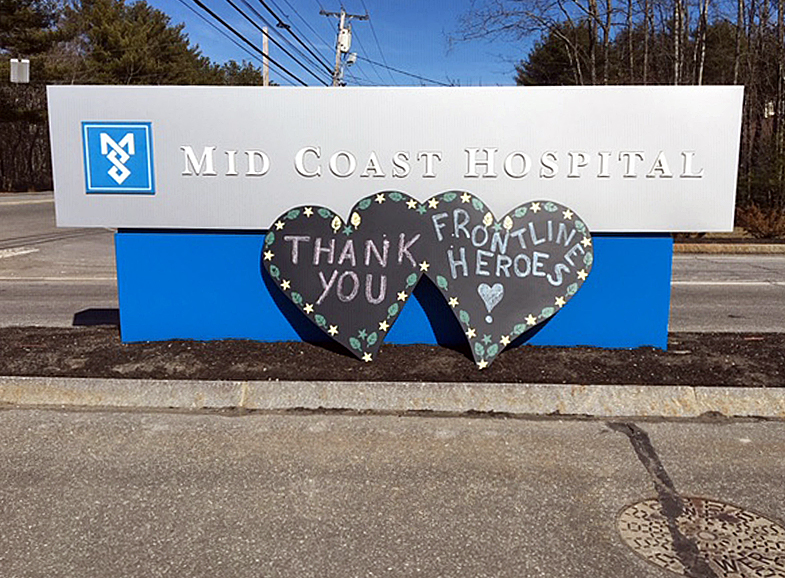 Dedicated to service beyond Mid Coast-Parkview, Lois is also a volunteer for the United Way of Mid Coast Maine and a board member for several local organizations including the Midcoast Regional Redevelopment Authority, the Hanley Center for Healthcare Leadership, the Medical Mutual Insurance Company of Maine, and the American Lung Association's Maine chapter.
Side note: Lois is part of Peter Callnan's family, and he's extremely proud of her. Lois lives in Brunswick with her husband, Jim. Her daughter Emily is an accomplished poet and faculty in poetry and writing.