In October 2017, Andrew Zarro opened a little coffee shop in Portland's Woodfords area. His mission was to serve exceptional coffee while contributing to neighborhood revitalization. The business took off, thanks in part to incredible press coverage. Last year, the shop made it on the "Top 100 Coffee Shops in America list" (Food & Wine Magazine), the "10 Best Coffee Shops" in Portland ME (Conde Nast Traveler)…and a top 10 list in Bon Appetit. Wow!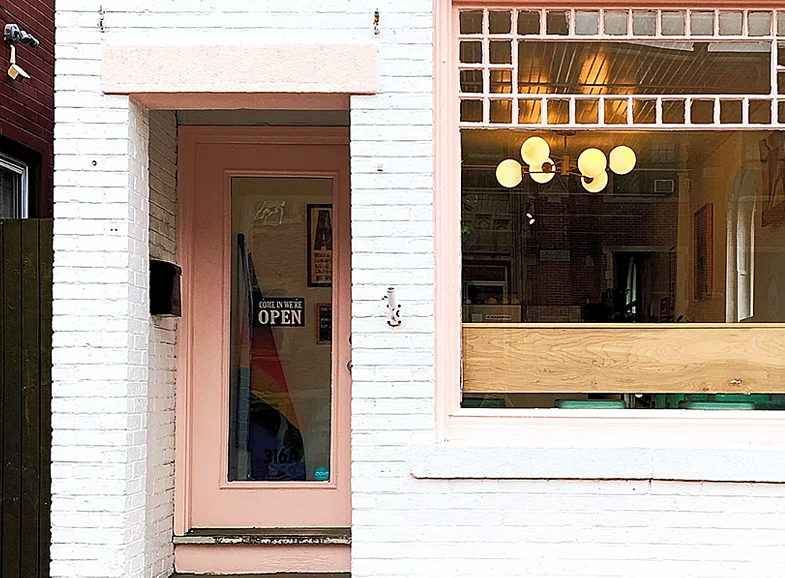 Fast forward to 2020, the business closed on March 16 when everyone in Maine closed due to COVID-19. Andrew told us:
"That same day, our landlord informed us that when the three-year lease renewed shortly, the rent would increase significantly." Serendipity intervened when his sister texted him about the availability of a little historic building at 316A Congress Street, a building Andrew had coveted. He opened the new location in early July 2020, perfectly located at the intersection of Franklin and Congress. Andrew noted, "It's impossible not to see its pink décor and adorableness."
She mentioned that she's also grateful for the people of the State of Maine for doing their part to slow the rate of transmission, giving healthcare a chance to re-tool operations for safe patient care. Fortunately, Maine hasn't been overwhelmed with the numbers of patients as they've seen in other parts of the country.
The shop is focused on coffee, tea, and local baked goods. "First and foremost, we're coffee people," Andrew said. "I work with a Vermont coffee company that sources coffee in an ethical way. But it's not just for coffee nerds. It's everybody's coffee!" He added that they support the local food system—bakers who don't have their own storefronts. These days, the shop is busy with outdoor and online ordering and with contactless pickup to keep everyone safe and happy.
Their website is: littlewoodfords.com